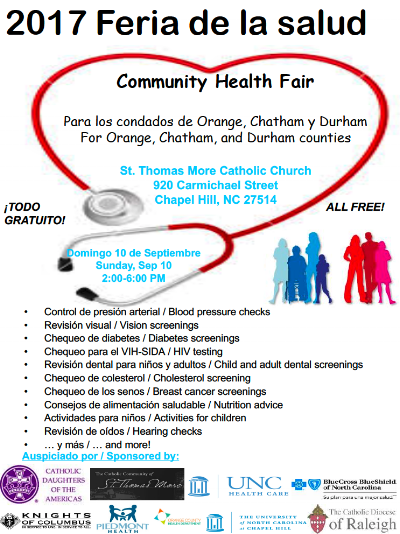 Latino Community Health Fair!
St. Thomas More Catholic Church is hosting a Community Health Fair on September 10, 2017 from 2 to 6 PM.
St. Thomas More Catholic Church is located at:
920 Carmichael Street Chapel Hill, NC 27514
Health Fair offers the following free services:
- Control de presión arterial / Blood pressure checks
- Revisión visual / Vision screenings
- Chequeo de diabetes / Diabetes screenings
- Chequeo para el VIH-SIDA / HIV testing
- Revisión dental para niños y adultos / Child and adult dental screenings
- Chequeo de colesterol / Cholesterol screening
- Chequeo de los senos / Breast cancer screenings
- Consejos de alimentación saludable / Nutrition advice
- Actividades para niños / Activities for children
- Revisión de oídos / Hearing checks
and more!
Come see join us at the Community Health Fair!